bLuwi
bLu
21. Legal. St. Paul College of Pasig. University of Sto. Tomass. BS-Biology. Biology Dance Squad. Hyperluu. Schizoid. Rational. hopeless romantic. diabetically sweet. nature lover. music freak. dance-aholic. bgirl?. alcohol. FOOD. iced tea. lemon chicken. yang-chao fried rice. pc. highlighter. books. movies. guns. chucks. cars. sports. extrovert. angst level=99%. jokes. humor. laughter. BEACH. illusion. a little bit of everything unconventional. RANDOM. i love my family. i love my friends.
live. laugh. love. learn. EAT.
lyric
You might be a big fish In a little pond Doesn't mean you've won 'Cause along may come A bigger one And you'll be lost Coldplay - Lost

tagboard
affiliates
layout:
lyricaltragedy
inspiration:
outgone
your
exits
jovecca
helena
abiog
pas
paola
eKa
aggie
kimmy
gEm!
cha2
Mon
Jam
Pao
myLj
9:44 PM | Tuesday, October 18, 2005
goodness....
off to shang tomorrow with paola!! yay! haaiii.... mishu na! after months of not seeing each other, i wonder if we'll ever stop talking tomorrow. sa starbucks pa talaga tayo magkikita. hala nah. we have to buy tickets first to make sure we'll really watch a movie. baka puro kwento tayo nyan. haha. getting excited! :p
oh. and on friday, booze night at kath's house. not mine. dad has to use the house. anyhoo... i'm starving..
can someone please make me a pitcher of lemonade? i'm craving for one.
oo i found a pic while organizing my folders.. hehe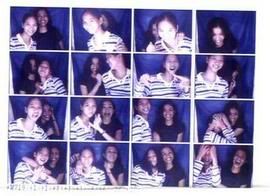 hey nix, can't wait for hp4. we hafta watch the morning it gets shown here. nov.16. and yes, i'm willing to skip class. :p