9:05 PM | Wednesday, November 02, 2005
it's like all the happiness has been drained from me. i'm getting grumpier day by day and i just can't seem to stop snapping at people (my family in particular) and i really hate when they make me repeat what i said and when they ask too much. a voice in my head keeps screaming at them, "use your f*uckin head!!" it's quite annoying actually when you get the feeling that a person is soo ignorant and they'd pester you nonstop with questions in which all the answers are right in front of them or they'd just have to use their common sense. but some people are just being their annoyin self. hateithateit.
see? i'm getting grumpy again. the mood swings just doesn't stop.
-----
Bora was fine. drank illusion nonstop. morning til night. (seriously) and i have two bottles stashed here in the ref. hehe. stayed at cocomangas. d'mall: it feels like you're not in bora anymore. yea.. then jetski; went solo and full speed. kept on jumping and the waves hated me. haha. walked. rained. not much sun fun. illusion. DOM moment. eewww...... then met some people. lookalikes. and mr. henna. too many koreans there. grr.. and of course, ate lots and lots of food.
after that, we went to my dad's place first in kalibo. stayed there for a while then off to the cemetery for my lolo and uncle. lit some candles. flower arrangements. the works.
then off to malinao. my mom's place. went to the cemetery first. met with my cousins--mother side. saw him. yes, him. although didn't do a thing. then went home. saw my lolo again. saw them ALL again. missed them. plus the bratinella and the new baby prince. i made a friend--louie. my cute cousin who is just soo weird. hehe. then helped the kids do their 'scary' make-up for the halloween trick or treatin. they were all cute! bratinella was the cutest with her fairy princess costume plus tiara. the street was lit with candles. 3 long lines. and the kids did their thing. the candies were distributed. all went home happy. esp. the kids. the mothers were so happy. stage mothers that is. hehe. went out and did some rounds. went home early. round 10pm. watched tv. wanted to go out badly. believe it or not, i wanted to talk to him. just plain talk. exchange some hello's. well, nothing happened. woke up early in the morning, ate breakfast. took a bath. plane leaves at 10.45. i took my time breathin in the fresh air and watching the clan gather round our terrace, helping us pack the food they gave us. 2 cartons full of sugpo, super fat crabs, lansones, native chicken, carabao tongue (seriously), and lechon. and lotsa more stuff. we then said our goodbye's. went back to kalibo to say goodbye to the father side people. hehe. then...... went home.
not the most productive trip i made. actually did nothing at all.
i wasn't expecting anything anyway.
now i'm here. back in cainta. eating piyaya and prichon.
i'm bored.
pics.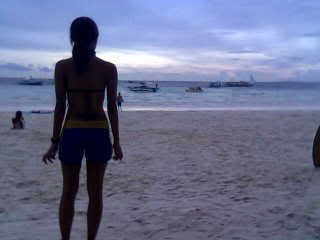 i miss...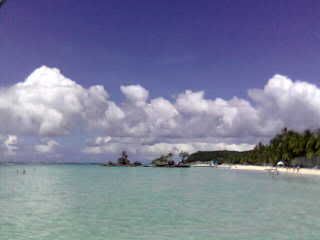 never forget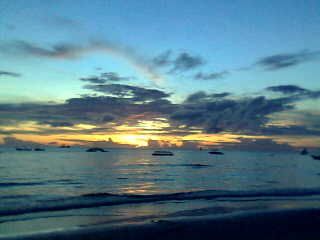 >
pure bliss...